Ottawa Police seized a sawed-off shotgun from a man after responding to a disturbance call on a patio in Vanier on Friday night.
Police were called to the 300 block of Montreal Rd., where a man allegedly pointed a sawed-off shotgun at two people.
The man left the patio and discarded the shotgun.
Officers arrived on scene where they located and arrested the man, the gun was found nearby.
23-year-old Nicholas Lalonde is being charged with several firearm offences, including careless use of a firearm, two counts of point a firearm, obstructing police, and breach of probation.
He appeared in court Saturday morning.
The Guns and Gangs Unit is asking anybody with information about the incident to contact them at 613-236-1222 ext. 5050.
Anonymous tips can be submitted by calling Crime Stoppers at 1-800-222-8477.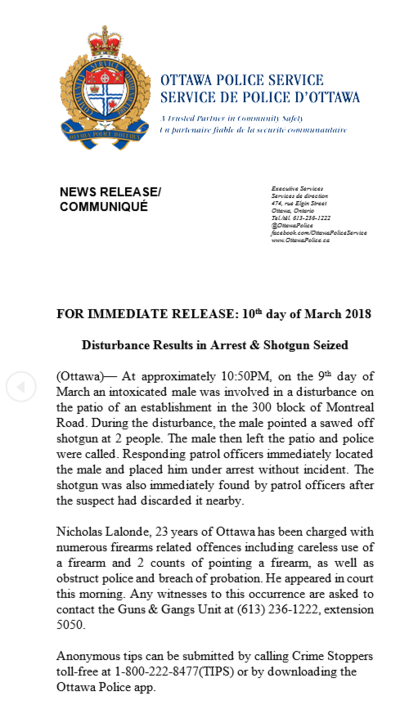 OPS Guns and Gangs Release